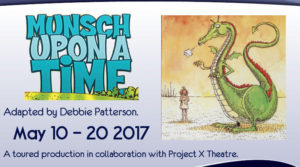 Theatre for Young Audiences –  Munsch Upon a Time, adapted by Debbie Patterson and presented by Project X Theatre in Kamloops
Running Friday May 1th at 7 pm and Saturday May 13th at 11 am, 2017
This show is 60 minutes in length with no intermission and is ideal for ages 5-11
For our Theatre for Young Audiences segment of the series we present the touring production of Munsch Upon a Time. Robert Munsch's stories are woven together for the stage with the help of Professor Pim's Time Machine, beaming us back into the past and forward into the future with lots of high-octane energy and loads of laughs. Three classic stories from Canada's most beloved children's author – The Paper Bag Princess, The Fire Station & David's Father – plus new favourites, Give Me Back My Dad! and It's My Room!  will have our young audience members and all lovers of Munsch's work enthralled and entertained!
Tickets available at Books and Co. or at THEATRE NORTHWEST.COM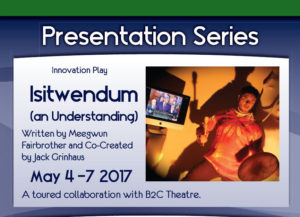 Innovation –  Isitwendam (An Understanding) Workshop Production by Meegwun Fairbrother, in Association with Bound to Create Theatre
Running May 5-7, 2017
An incredibly powerful and accessible play about the collateral damage of the Residential School system in Canada that is currently preparing for a world tour. Having TNW premiere this piece is a very exciting venture for us. In this moving play Brandon White is a half white, half Ojibway Canadian that believes in the conservative government and thinks he has all the answers, understanding 'both sides of the coin'! But when Indian Affairs sends him on a job to discredit a Residential School survivor Brandon is thrown into a world that challenges everything he has ever believed in! Watch as this one person show mesmerizes with its exciting and innovative technical presentation and its powerful and forward thinking message of togetherness and hope.