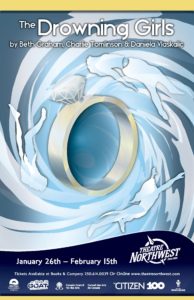 by Beth Graham, Charlie Tomlinson, and Daneila Vlaskalic : Directed by Kate Newby
Running January 26 to February 15, 2017
Running time: Eighty Minutes with no intermission.
The Drowning Girls' Takes Your Breath Away – Backstage magazine
Bessie, Alice and Margaret have two things in common: they are married to George Joseph Smith, and they are dead.  Surfacing from the bathtubs they were drowned in, the three breathless brides gather evidence against their womanizing, murderous husband by reliving the events leading up to their deaths.  Reflecting on the misconceptions of love, married life, and the not-so-happily ever after, The Drowning Girls is a breathtaking fantasia, full of rich images, a myriad of characters, humour and revenge! A murder mystery like you've never seen it!
Reviews are in: See what the Prince George Citizen says about The Drowning Girls!!
Cast
Bessie – Lauren Brotman
Alice  – Sarah Roa Canero
Margaret – Heather Morrison
Creative
Director – Kate Newby
Stage Manager – Yvonne Yip
Assistant Director – Melissa Glover
Set Design –Hans Saefkow
Lighting Design – Alexandra Prichard
Costume Design – Jennifer Lee Arsenault
Sound Design – Jonathan Lewis
Show Times:
Mainstage
Tuesday – 8:00 pm
Wednesday – 8:00 pm
Thursday – 8:00 pm
Friday – 8:00 pm
Saturday – 2:00 pm and 8:00 pm
Sunday – 2:00 pm
Presentation Series
Times are based on tours and may vary to include 7:00 pm and 11:00 am for Theatre for Young Audiences
Please See out Ticket Web page for more details.