2018/19 Season Announcement!!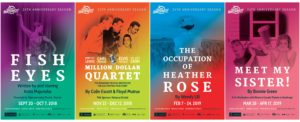 Welcome to Theatre NorthWest's 25th 2018/19 Anniversary Season! Our season theme is Celebration as we look at yesterday, today, and tomorrow to help culminate our entire history behind and ahead of us! From a new world perspective, to a musical reminiscent of our most attended show in history, to the first play ever done at TNW, and finally a World Premiere of a familiar and relatable comedy, this season celebrates what it means to be alive and what it is about life that is real and beautiful! We couldn't be more excited to be turning the corner of one era and beginning a new one, as we cross this incredible milestone. Thank you for your patronage and all the amazing memories shared. Prince George, this one's for you! Here's to 25 more! Bravo! Jack Grinhaus – Artistic Director 
READ PRINCE GEORGE CITIZEN ARTICLE HERE!!!
MAINSTAGE SERIES 2018/19

FISH EYES
Written by and starring Anita Majumdar
Presented by Nightswimming Theatre, Toronto
Running: Sept 20 – Oct 7, 2018
Run time: 1 hour and 45 min (including a 15 minute intermission)
DOUBLE BILL!! Two audacious and exciting plays (Fish Eyes and Let Me Borrow That Top), by celebrated theatre, television and film actress Anita Majumdar, tell the coming-of-age stories of two teenage girls of South Asian descent in small town Canada. This award-winning solo tour-de-force fuses exceptional Bollywood dance and Kathakali storytelling to create a truly unique theatrical experience.
Million Dollar Quartet
By Colin Escott and Floyd Mutrux
Running: Nov 22- Dec 12, 2018 (EXTENDED UNTIL DEC 20TH)
Run Time: 2 hours (including a 15 minute intermission)
This Tony nominated musical tells the true story of a meeting on December 4, 1956 at Sun Records. Producer Sam Phillips brought together Elvis Presley, Jerry Lee Lewis, Johnny Cash and Carl Perkins to the studio to hang out and jam their favourite songs together. Four of rock and roll's greatest on the stage at one time in a live experience you will never forget that made they made rock 'n' roll history! Featuring iconic hits like "Hound Dog, "Blue Suede Shoes", "Folsom Prison Blues", "That's All Right", "Great Balls of Fire", and a whole lot more!

The Occupation of Heather Rose
By Wendy Lill
Running: Feb 7 – 24, 2019
Run time: 1 hour and 45 min (including a 15 minute intermission)
The Occupation of Heather Rose was the first play ever staged by Theatre NorthWest in its first season! 25 Years later we are proud to bring it and ourselves back full circle! A beautiful heartwarming and inspiring play that charts the growth in understanding of a naïve nurse working on the Snake Lake Reserve in Northern Ontario. Nominated for a Governor General's Award this play's beauty and story is one that will stay with you well after you've left the theatre! Starring and directed by the amazing team behind last season's smash hit, Jake's Gift!!!!

Meet My Sister!
By Bonnie Green
Running: March 28 – April 17, 2019
A Co-Production with Western Canada Theatre in Kamloops
Run Time: Two Hours (including a 15 minute intermission)
WORLD PREMIERE!!! In this hysterical new comedy two sisters, Stella and Blanche, one from Northern BC and the other from Northern Ontario, try in vain to get their mother to come out of her locked home, which has been sold, and out to a seniors residence where she is supposed to be moving that day!! With Tim Horton's cups being tossed out the window and hilarious failed attempts to woo her out, these two sisters battle the locked home and even each other as they try to figure out who mom loved best… But wait who's this Sly person mom keeps talking about!?!?? A laugh out loud comedy that goes right for the gut and has a surprise twist ending you'll be laughing about for days to come!
PRESENTATION SERIES: THEATRE FOR YOUNG AUDIENCE PRODUCTION (TYA)
Jack and the Bean

"Do you believe in magic?"
Presentation House Theatre is thrilled to present Linda A. Carson's enthralling new spin on the much-loved children's classic, Jack and the Beanstalk.  This imaginative adaptation finds Jack, a farmer's son, surrounded by land that just won't grow anything.  Compelled to sell his beloved toys to feed his hungry family, Jack instead trades them for magic beans, from which a towering beanstalk grows.  Jack climbs the beanstalk and is taken on an amazing journey filled with excitement and peril.  Children, young and old, will delight in this simple, but highly engaging, environmental tale.
PERFECT FOR AGES 3-9. RUNNING MAY 6 – 11, 2019. FOR TICKETS CONTACT foh@theatrenorthwest,.com