THE BEST BROTHERS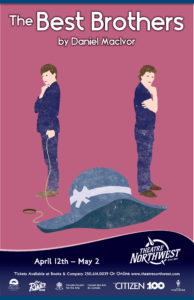 The Best Brothers by Daniel MacIvor
(A Co-Production with Western Canada Theatre in Kamloops)
Running April 12th – April 29th
Doors at 7pm, curtains at 8pm

Running Time: 2 Hours, including a 15 minute intermission.
After losing their free-spirited mother in a freak accident involving a large drag queen named Pina Colada, brothers Kyle and Hamilton Best have to find a way to work together to make the final arrangements.  Polar opposites, Hamilton and Kyle are hampered by past resentments and the age-old sibling-rivalry question "Who did Mom love best?"
In this 2012 hysterical comedy by famed Canadian playwright Daniel MacIvor (whose play How it Works was one of TNW's best attended shows!) two brothers reunite to gain a better understanding regarding their relationship with her, each other, and the family dog. A play for anyone who has had a mother, brother, or dog!
Running time: 100 minutes PLUS a 20 minute intermission.
Cast 
Hamilton Best – Aidan De Salaiz
Kyle Best – Ryan James Miller
Creative
Director / Sound Designer – Sharon Bajer
Set and Lighting Designer – Ross Nichol
Costume Designer – Suzannah Marriott
Stage Manager – Christine Leroux