HEDDA NOIR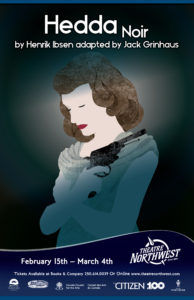 Hedda noir
adapted by Jack Grinhaus from Henrik Ibsen's Hedda Gabler,

Running Feb 15 – March 4, 2018
EXCITING, ENTERTAINING, AND ENTHRALLING!!!
WORLD PREMIERE!!! It is 1940 in Windsor Ontario Canada. A shot is fired. And so begins the mystery of Hedda Noir!
One of theatre history's greatest plays, Hedda noir tells the story of a beautiful Hedda of the late General Gabler, who too proud to lose the only power she believes she can still wield, sets in motion a tragic series of events that builds to a climactic and explosive finish. In this new adaptation set in the 1940's and with an exciting original design sourced from the Film Noir genre this highly theatrical production is a must see for any theatre goer!! A Murder Mystery that's less about the WHO and more about the HOW and WHY!!
2 hours PLUS a 15 minute intermission
Cast
Hedda Gabler – Lauren Brotman
George Tesman – Ian Farthing
Julia Tesman – Deborah Drakeford
Elliot Lovborg – Ray Strachan
Thea Elvstead – Sharmila Dey
Judge Brack – Stewart Arnott
Creative
Director/Adapter – Jack Grinhaus
Stage Manager – Heather Thompson
Assistant Director – Melissa Glover
Set Design – Brian Ball
Lighting Design – John Webber
Costume Design – Jeff Chief
Apprentice Stage Manager – Michael Kast