Single Tickets and Gift Certificates
SINGLE TICKET PRICES
Our Box Office
is located at Books & Company
1685 3rd Avenue
Prince George, BC
250-614-0039
MAIN STAGE SERIES
Performances are Tuesday, Wednesday, Thursday, Friday, Saturday – 8PM and Saturday and Sunday – 2PM
Tuesday, Wednesday & Thursday: $29 adult regular / $27 senior & student + GST
Friday, Saturday & Sunday: $31.50 adult regular / $30 senior & student + GST
Previews: $20+ GST
*Pricing applies to all TNW Main Stage season shows.
*Please note that there is a $2 fee per transaction for online sales.


PRESENTATION SERIES
Innovation Piece/Local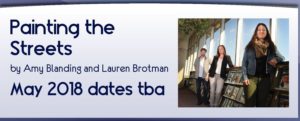 Painting the Streets by Amy Blanding and Lauren Brotman – Running May 2018

Beth and Ally are two women with distinctly different world views and life stories; by a twist of fate, their paths begin to merge as each seeks to make a new life for herself in Prince George, British Columbia. As observers of this narrative, we become privy to their complicated and confusing internal dialogue, as both women begin to question their assumptions about the world. Subtle, humorous, and achingly raw, 'Painting the Streets' attempts to capture the multifaceted, colourful, and complex nature of humanity as we struggle to live, contribute, and evolve. 
Theatre for Young Audiences (TYA)

Robinson Crusoe and Friday By Colin Heath and Michael Wolski – Running May 2018

"No man is an island unto himself" – An English sailor, shipwrecked on a remote island, works against all odds to survive alone for 25 years. Until one day, he rescues a stranger from brutal savages and the two develop a remarkable friendship. Adapted from the classic novel by Daniel Defoe, this imaginative retelling of a true story emphasizes communication, embracing cultural differences and empathy. Set sail with Robinson and Friday on an adventure full of comedic miscommunication, history and heart! Ideal for ages 5–12.
$15 regular / $10 senior & student + GST
Seniors are 65+ years
Students must show valid full-time Student Card at purchase
Children are 12 and under
Infants and children under age 5 not permitted.
GROUP BOOKINGS
Discounts are available for group bookings of 10 or more; as well, we have excellent rates for high school and university students. Nearly all shows have WEEKDAY matinees, which are an excellent chance to see a performance, and talk-backs can be booked after these shows for your group.
GIFT CERTIFICATES
This is an easy way to give someone a dollar amount of your choosing to be used towards any of our productions. You can choose any amount you wish – we recommend selecting a dollar amount that reflects our ticket prices (eg. $60 for two $30 weekend tickets, or $100 for four $25 weekday tickets). Gift certificates can be purchased in person, over the phone, or online.
 For information on pricing and availability call or email our Box Office Manager at foh@theatrenothwest.com