Our 2017/18 Season also continues with our Second Stage Presentation Series and the world premiere of Painting the Streets, a locally developed play about living in Prince George. Our Theatre for Young Audience production of Robinson Crusoe and Friday, brought in by Vancouver's Axis Theatre, is a visual splendor our young audiences and their families won't want to miss! And finally, our recent production of Isitwendam is beginning its first leg of its tour in the Fall of 2017!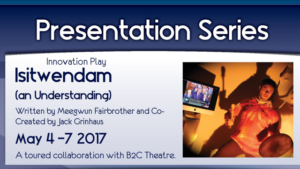 Isitwendam by Meegwun Fairbrother and co-created by Jack Grinhaus – Tour Running Fall 2017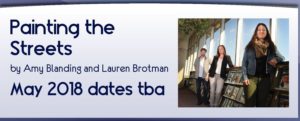 Painting the Streets by Amy Blanding and Lauren Brotman – Running May 2018

Beth and Ally are two women with distinctly different world views and life stories; by a twist of fate, their paths begin to merge as each seeks to make a new life for herself in Prince George, British Columbia. As observers of this narrative, we become privy to their complicated and confusing internal dialogue, as both women begin to question their assumptions about the world. Subtle, humorous, and achingly raw, 'Painting the Streets' attempts to capture the multifaceted, colourful, and complex nature of humanity as we struggle to live, contribute, and evolve. 

Robinson Crusoe and Friday By Colin Heath and Michael Wolski – Running May 2018

"No man is an island unto himself" – An English sailor, shipwrecked on a remote island, works against all odds to survive alone for 25 years. Until one day, he rescues a stranger from brutal savages and the two develop a remarkable friendship. Adapted from the classic novel by Daniel Defoe, this imaginative retelling of a true story emphasizes communication, embracing cultural differences and empathy. Set sail with Robinson and Friday on an adventure full of comedic miscommunication, history and heart! Ideal for ages 5–12.