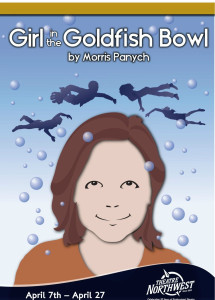 By Morris Panych and Directed by Daryl Cloran: Running April 7 to April 27, 2016
Running Time: 2 Hours with one intermission.
The 2004 Governor General's Award winning play by one of Canada's greatest living modern playwrights is about a family in rural British Columbia. When Iris's goldfish Amal dies and her father has flushed him down the toilet Iris takes a frozen fish stick to the ocean to bury him. When she arrives she finds a man there she believes is Amal reincarnated.
"She brings him home and it is into the goldfish bowl of her dysfunctional family of lethargic piranhas, existential bottom-feeders, and aggressive guppies that the audience peers with acute recognition, hysterical laughter, and an overwhelming sense of the creative healing power of the imagination."
Creative
Playwright – Morris Panych
Director – Daryl Cloran
Stage Manager – Skylar Nakazawa
Apprentice Stage Manager – Michael Kast
Set Design – Hans Saefkow
Lighting Design – Darren Boquist
Costume Design – Marian Truscott
Cast
Iris – Natasha Greenblatt
Sylvia – Lauren Brotman
Owen – David Leyshon
Mr Lawrence – Haig Sutherland
Rose – Martha Irving