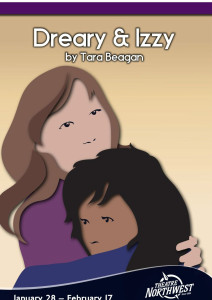 Written and Directed by Tara Beagan: Running January 28 to February 17, 2016
Running Time: 2 Hours with one intermission.
From the playwright that brought TNW Thy Neighbours Wife comes this beautiful tale about two sisters that shows us the true power of unconditional love. After the loss of their parents the Monoghan sisters find inspiration in the form of an attractive vacuum cleaner salesman. As relevant to PG life as it is entertaining this play will capture the love and imagination in all of us.
*And a bonus for this show – Local playwright Betsy Trumpener, the winner of our True North New Works Playwriting contest, will have her short play Highway of Fears performed as a curtain warmer before each evening's production of Dreary and Izzy, by the company of Dreary and Izzy. A Prince George first as Theatre North West produces its first local playwrights work!!
Creative
Playwright/Director – Tara Beagan
Stage Manager – Sarah Miller
Production Design – Andy Moro
Costume Design – Jeff Chief
Cast
Isabelle – Joelle Peters
Deirdre – Dakota Ray Hebert
Freddie – John Cook
Mrs. Harper – Valerie Planche