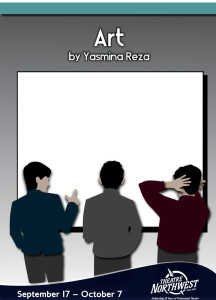 by Yasmina Reza: Directed by Jack Grinhaus
Running September 17 to October 7, 2015
Running Time: 90 minutes with no intermission.
This hysterical fast paced comedy that won the Tony for Best New Play and followed a 600 performance run on Broadway has been translated in a number of languages and is still one of the top earning plays around the world. When Serge buys a completely white painting for $200,000.00 his friend Mark is infuriated and friend Ivan is confused.
The next 90 Minutes is a non stop riot as the three friends madly debate the issue as the core values of their friendships begin to unravel!