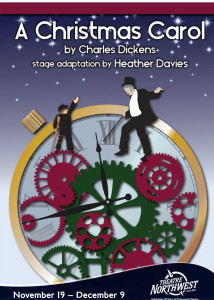 New Original Adaptation and Directed by Heather Davies: Running November 19 to Dec 9, 2015
Running Time: 2 Hours and 20 minutes with one intermission.
Internationally acclaimed adapter and director Heather Davies takes a twist on the magical tale of redemption of Ebeneezer Scrooge with a Steampunk/Tim Burton inspired visual splendor.
Highly Theatrical this is A Christmas Carol like you have never seen and one being created and premiered for our PG audiences. This one is not to be missed!
Creative
Adaptation and Direction by Heather Davies
Stage Manager – Jessica Stinson
Set Design by Brandon Kleiman
Lighting Design by Bryan Kenney
Costume Design by Marian Truscott
Assistant Stage Manager – Kristopher Weber
Apprentice Stage Manager – Michael Kast
Cast
Ebenezer Scrooge – David Warburton
Ghost of Marley/Mr. Fezziwig/Pawnbroker/Party Guest -Roy Lewis
Bob Cratchit/Party Guest – Andy Pogson
Fred/Young Scrooge/Grateful Husband/Charwoman – Greg Gale
Fran/Ghost of Christmas Past/Martha/Laundress/Grateful Wife – Ruby Joy
Topper/Fiddler/Belle's Husband/Ghost of Christmas Future – Victor Dolhai
Mrs. Cratchit/Belle/Party Guest – Beryl Bain
Dick Wilkins/Ghost of Christmas Present/Party Guest/Undertaker – Eli Ham
Tiny Tim/Want/Boy with Turkey/Party Guest -Claire Ramsay/Keara Hicks
Boy Scrooge/Peter/Party Guest –  Aidan Hartford/Cecil MacRae
Belinda/Fan/Anne/Ignorance/Party Guest – Aleisha Ramsay/Meg Peters